FAQ'S
Frequently asked questions
How do I germinate cannabis seeds?
---
There are a few ways to germinate seeds. We like this method best!

Make a scratch box by lining a match box with sand paper. Place all seeds in the box and lightly shake for 5 minutes.


You can either place the seeds into soil or other medium and water and let nature do the work. If you can, PH test your water and make sure it´s within PH 5.8 - 6.8.


Altrnatively place the seeds onto a wet paper towel, and place a second plate on top to seal the seeds from light. Place in a warm area for 24 to 72 hours.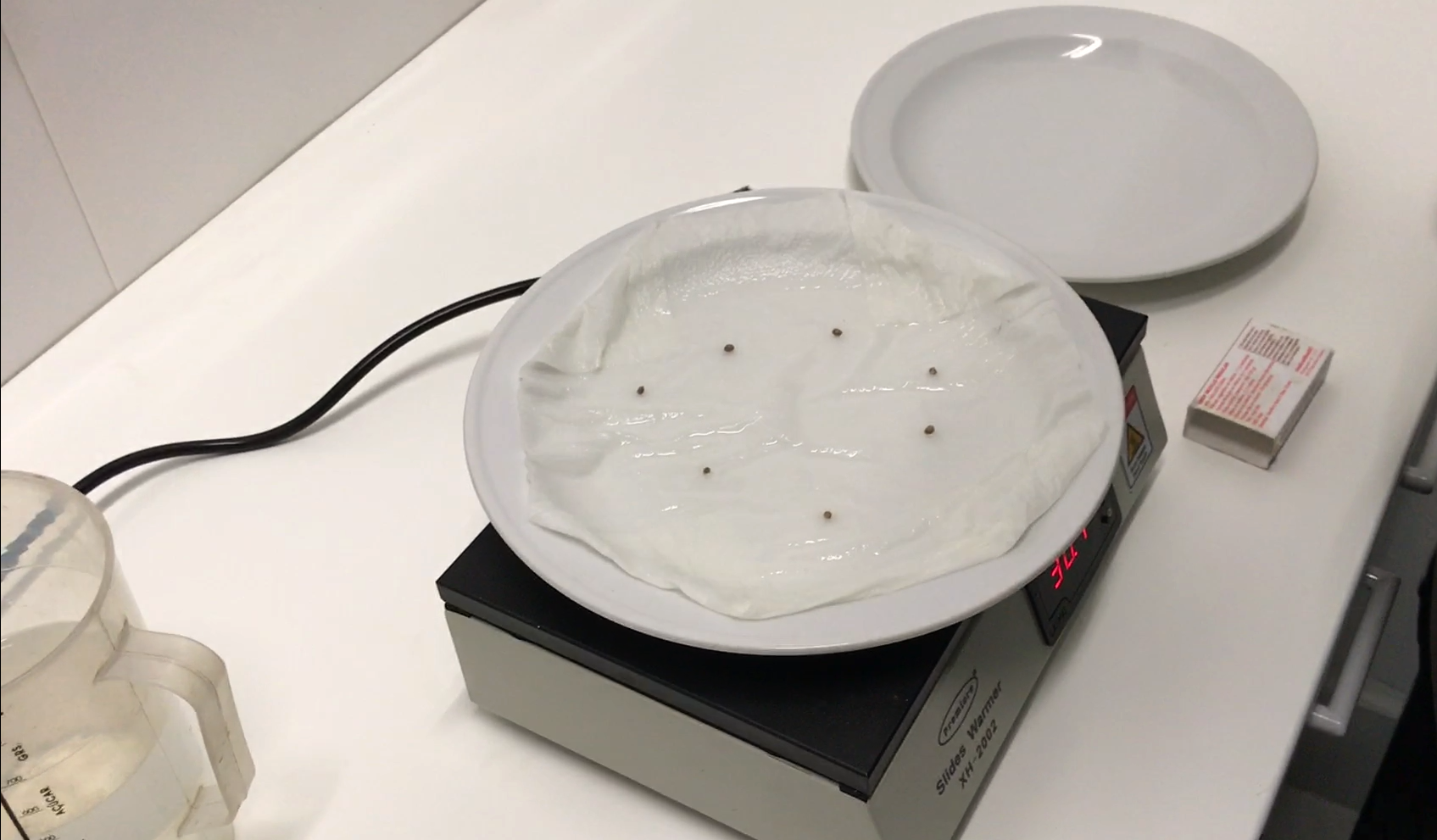 Check regularly that the towels don't dry.

When a small white tap root is seen, place in soil or other medium and water.Place the seeds in water for at least 24h and then place in soil or other medium.

---
What's the best medium to grow cannabis in?
---
This is very much to the preference of the grower, and how and where you are growing. That said, soil will give you the most leeway when it comes to fertilizer usage and watering schedule.
---
Do I need to use fertilizers?
---
More often then not, cannabis seeds are grown in pots and therefore yes you will need at least some flowering/bloom fertilizer for the budding period.

If you want to grow inside then fertilizers become even more important, do some homework and learn some basic knowledge on hydroponic systems.
Outdoor planting (if you have the chance) is the way nature intended, and with good composting and soil maintenance can give excellent results.
---
Can I grow cannabis inside as well as outside?
---
Yes, almost all our seeds can be grown both inside or outside. There may be varieties that are better suited to one condition over the other, which can be looked at in the variety of descriptions throughout our product pages.

www.motherseeds.es/shop
---
What cannabis seeds should I buy?
---
Selecting the right strain for you is only done with experience. You can take into account whether you want a sativa dominant strain, which gives you a creative and energetic high. Or an indica dominant strain, which gives a much more heavy high for the end of the day or just chilling out.
After that there are the full range of tastes which are available from all the different strains of cannabis plants. The Cannabis plant is the only plant that offer the full spectrum of varieties can give the full spectrum of terpenes, which makes the plant smell and taste the way it does.
---
What cannabis needs to grow?
---
Cannabis can grow almost anywhere with the right conditions which can be artificially made. Sunlight or lights, Water & a suitable clean space.
A seed needs a grow in a medium ie; soil, coco, perlite or clay balls. After which the plant will need nutrients for its growth and flowering stages. This can be, and in some cases must be supplemented with fertilizers.
Last but not least the plant needs a light source! The sun or a light with the correct spectrum of light are the 2 options.
---
What cannabis is good for cancer?
---
All cannabis with THC is good for cancer!
The cannabis plant has a multitude of medicinal applications. The oils made from it offer benefits to a wide range of symptoms.
The reason it works is because of a molecule group called "cannabinoids" which we have endo-cannabinoid receptors all over our bodies including the brain.

The cannabinoids, such as THC, CBD, CBN and 110 others, link up with the receptors and this in turn helps boost our immune system and also helps block certain signals in the brain, which can help with neurological problems and pain relief. In particular THC effects the cancer cells and causes them to die without killing healthy cells around it. But for the treatment to work the best possible it is also a good idea to go on a diet of no white sugar, fatty foods, no alcohol and lots of alkaline based foods and drinks, as cancer favours an acidic environment.
---
Are cannabis seeds illegal in Europe?
---
EU law allows for the free movement of goods within the EU single market. This means that once a product is sold legally in any one of the EU countries it should circulate without barriers to trade. So for now it legal to buy and sell seeds but not to germinate them.
---
Are cannabis and hemp the same thing?
---
Cannabis and Hemp come from the same family, and are as such the same plant. But hemp is cannabis that has less than 0.3 percent THC and has been selected over many years for it's seed and fiber production. Whereas cannabis has been selected over the same time for it's resin production.
---
Are cannabis plants perennials?
---
No, they are annuals which are plants that are typically planted in the spring and summer months, bloom for the season, and then die.
---
Can cannabis grow naturally in the uk?
---
Yes it can but it is illegal. The cannabis plant can grow in most countries outdoors during spring and summer times
---
---
Frequently asked questions
How long will it take you to answer my email?
---
We try to respond to any emails we have been sent within 1-3 business working days. Due to the large volume of emails we receive on a daily basis, a response may sometimes take a little longer to come back to you but we do answer any emails we receive as soon as possible. Please be rest assured that we read every single email we receive.
---
How do I know that you are a legitimate business?
---
Our business was established in 2017, we have formed a fantastic relationship with our customers and suppliers. We display our full address and contact details and you are welcome to email our Customer Service team with any questions you may have.
---
Why haven't I received my order confirmation/dispatch emails?
---
Whenever you place an order with Mother Seeds a confirmation email is sent to you with details of the order you have made. As soon as your order is processed and dispatched, a second confirmation email is sent to you indicating that your order is on its way to you. If you have not received these emails, it is possible they may have been caught in your spam mail folder. It is advisable to look through your spam and see if your confirmation emails have appeared there.
---
What is my 'Shopping Cart' and how do I use it?
---
Think of your shopping cart as an online version of a real shopping cart that you would use whenever you go to the store to buy groceries. Just like a real shopping cart, you can add items, remove them and change the quantity of each item if you want more than one. To add an item to your shopping cart simply click on 'Add To Cart' and you will be taken immediately to your cart. Here you can make adjustments to any products you may have chosen, and can remove any that you added by mistake. You can then either checkout or continue shopping. If you want to access your shopping cart without adding a product, simply click on the 'View Cart' button available in the 'Shopping Cart' box.
---
How do I know if you have received my order?
---
As soon as you place your order you will receive an order confirmation email at the email address you specified. This email will contain a summary of the products you ordered, the total cost and includes an order number which you can quote if you have any queries regarding the status of your order. You will receive a further email as soon as your order has been dispatched, indicating the order is now on its way to you. The order confirmation is not the actual invoice, only the confirmation of the receipt of the order.
---
How long will it take to process my order?
---
The length of time an order takes to be processed is dependant on how your details pass through our system. Whenever a customer places a Credit/Debit card the information is rigorously checked to ensure maximum security and prevent potential fraud. Your bank will may require security checks to validate your purchase. If all of the details are correctly matched and verified, your order will be processed as soon as possible. If there are any issues, a member of staff may be required to look into the situation and may contact you to verify some details. If you have placed an order with us and are paying by Postal Order, Money Order or Bank Transfer, your order can only be processed when we receive payment. Money and Postal Orders will be cashed as soon as possible and the order will be sent the same day as we receive payment in this way. Please be sure to include your order number with your payment so that we can locate your order and have it ready for dispatch. Bank Transfers will be located based on the information you send us and we will then process your order and dispatch your package as soon as possible.
---
Can I track my package?
---
Yes, you can track your package depending on the delivery method chosen. The tracking number will be sent in a confirmation email as soon as your order is dispatched and on its way to you. If you have chosen a delivery method that does not feature tracking, this will not be available. If, for some reason, you did not receive a confirmation email when your order is dispatched but would still like to track your parcel, simply email us with your order number and a member of staff will supply you with the tracking number.
---
Are Cannabis Seeds Legal & What Countries Do You Ship To?
---
Germination of cannabis seeds is illegal in most countries including the USA. These seeds are sold by motherseeds.es as collectable adult souvenirs to help preserve the cannabis genetics for future generations.

We can deliver seeds to the following Countries;

Austria, Belgium, Czech Republic, Denmark, Finland, France, Germany, Greece, Hungary, Ireland, Italy, Malta, Netherlands, Poland, Portugal, Romania, Serbia, Slovakia, Slovenia ,Spain, Sweden & United Kingdom
---
---
Free Shipping




Discreet traceable shipping
Guaranteed Fresh Seeds




All our seeds are no more than 6 months old
24/7 Support




Do not hesitate to get in touch!